eCommerce Dashboard
Creating an actionable reporting experience that increased page views by 8% year-over-year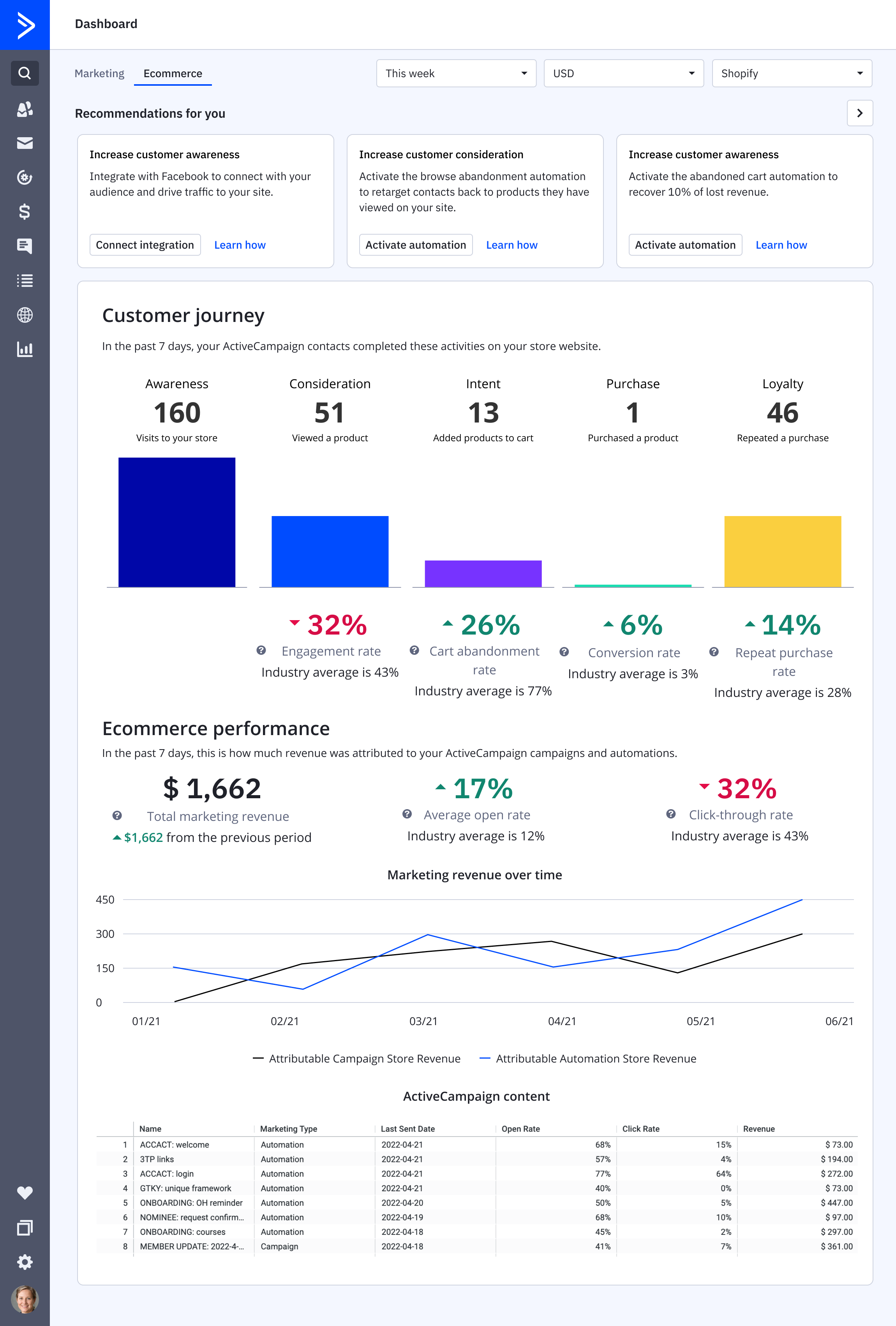 Background
In early 2021 I joined a team dedicated to serving the 🛍 eCommerce vertical experience at ActiveCampaign. Since business was moving online during COVID, we kept a pulse on what features small eCommerce business owners might need and owned a stream of delivery work dedicated to serving this industry segment.
Goals
• Increase the amount of actions available from the reporting dashboard
• Increase page views
• Increase user adoption of key features: automation, segmentation, eCommerce campaigns
My role
• Lead product designer
• Researcher
The Problem
After joining the eCommerce team, I led the team through a journey map exercise where we could align on the most important pain points to solve for our customers. Aside from onboarding, we decided to focus reporting was a huge area of improvement because it was a current feature gap and customer churn reports showed that our competitors were winning in this space.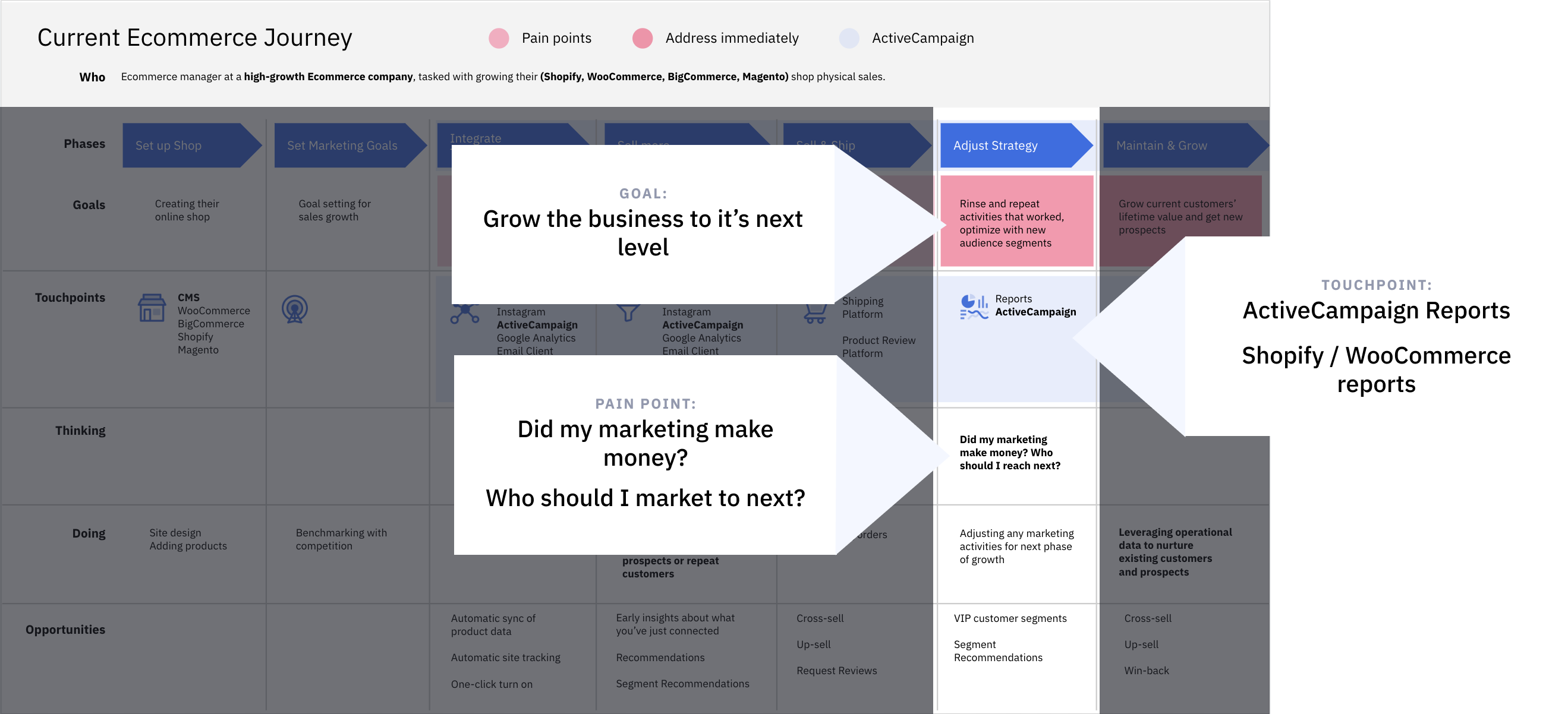 Challenges with the current experience: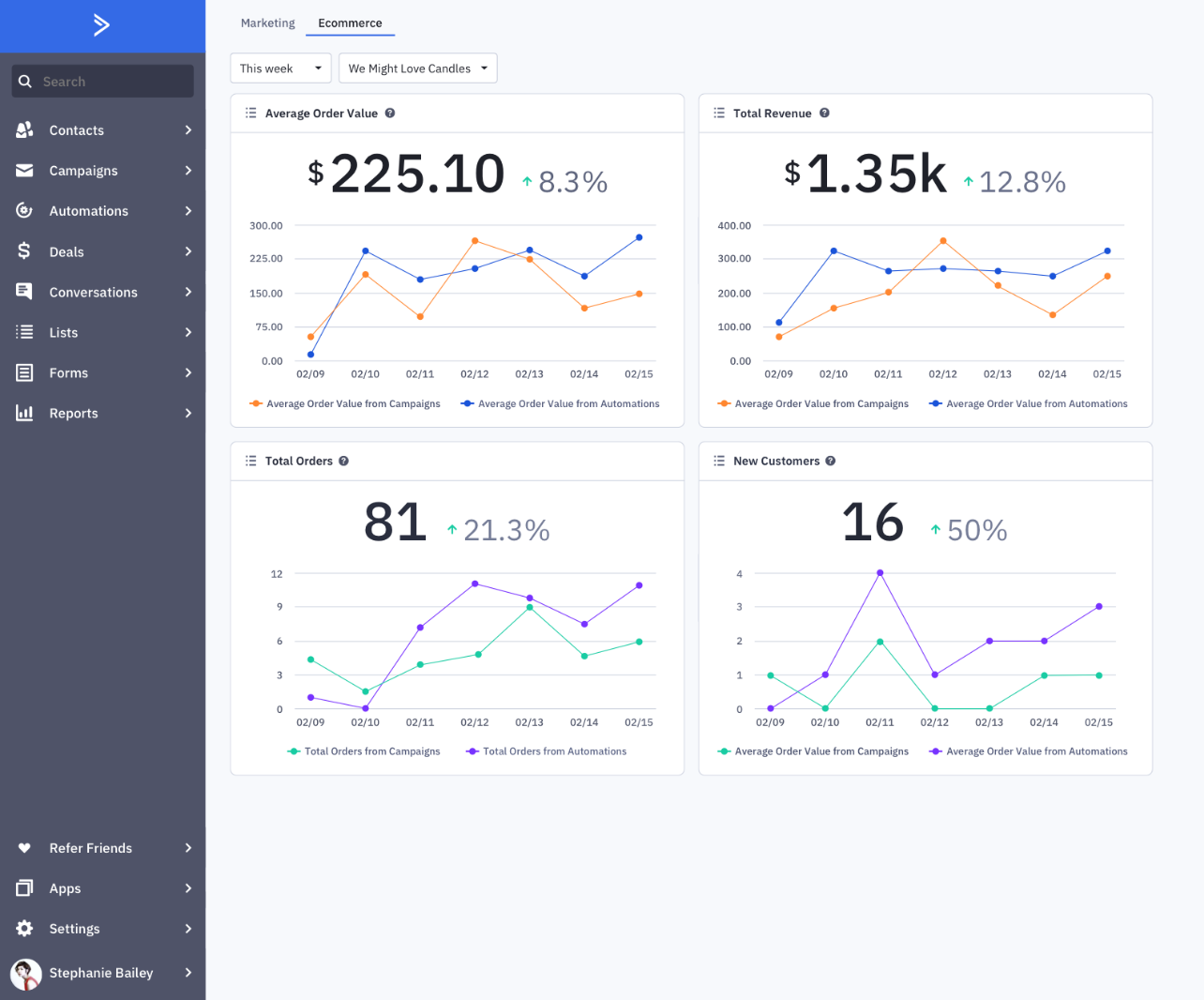 📊 No central location for all relevant metrics
Customers wanted helpful reporting in one location without having to go back and forth between ActiveCampaign and their eCommerce store platform.
💰 Unclear which marketing materials create ROI
Customers wanted a quick understanding of which assets in ActiveCampaign generate the most ROI for their business. This would also be a competitive advantage for us as we had to compete with other platforms and had to prove value.
❓ No guidance into how to improve metrics
The previous reporting experience provided little insight as to what the customer could do to actually improve their marketing and grow their business.
The Process
Over the course of 4 months, myself, 3 product managers, 2 lead engineers and eventually a second designer launched a new dashboard experience for our customers.
I led customer research, strategy, and design.
My process:
User research: Review competitors and user feedback

Co-design workshop to align on design framework

Test the solution with customers

Iterate based on feedback

Designing for feasibility and QA
1. Reviewing existing feedback and competitors
As a data-driven designer, I prefer kicking projects off with some understanding of what users need. Reviewing the initial research we had and quickly checking the competitive landscape provided for some helpful insights straightaway.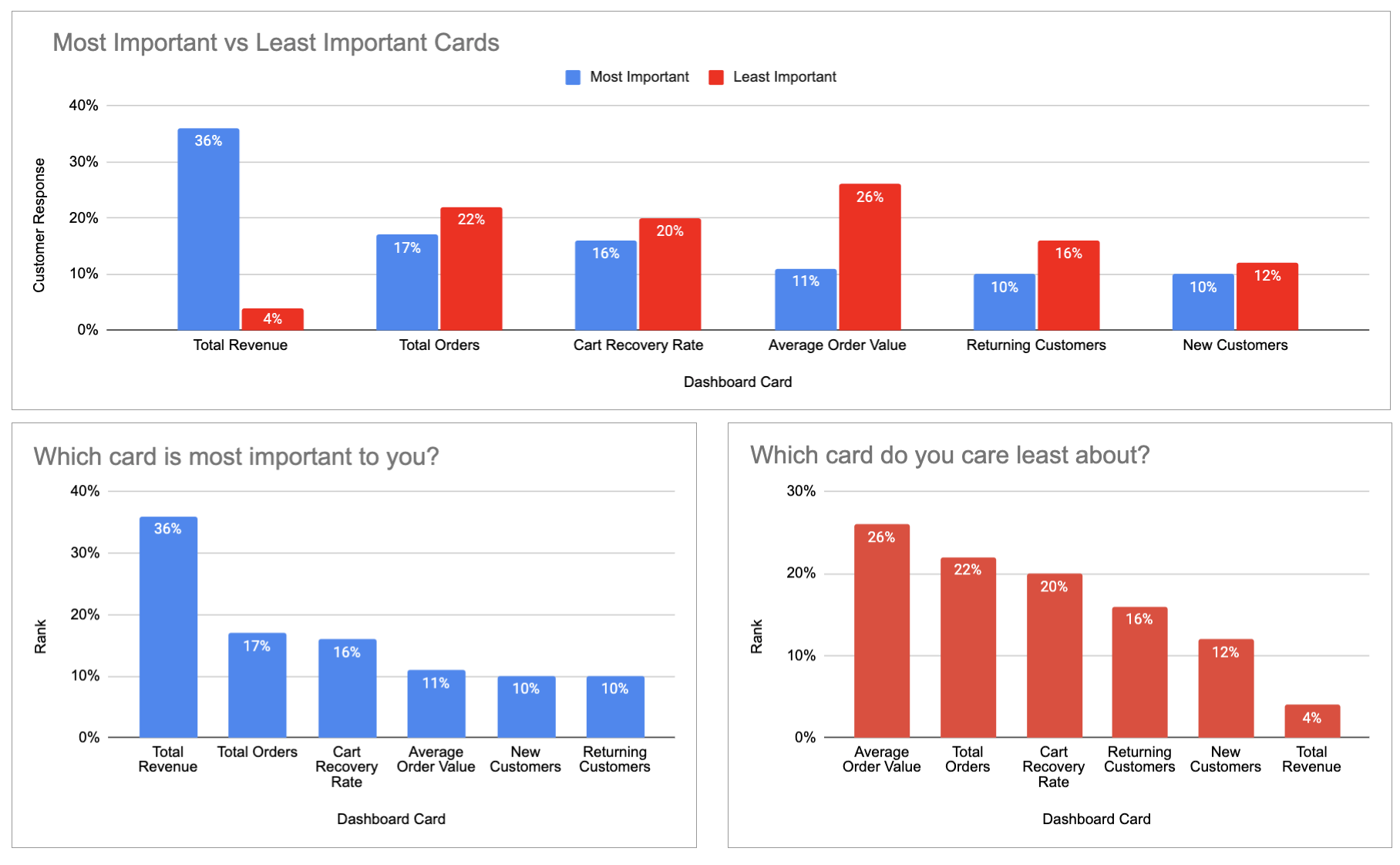 Reporting Insights
An output of the initial research was an understanding of metrics that users need across their entire journey. For example, their goals as a new business owners just starting to market their business are very different than a those of a business that has been marketing for a while.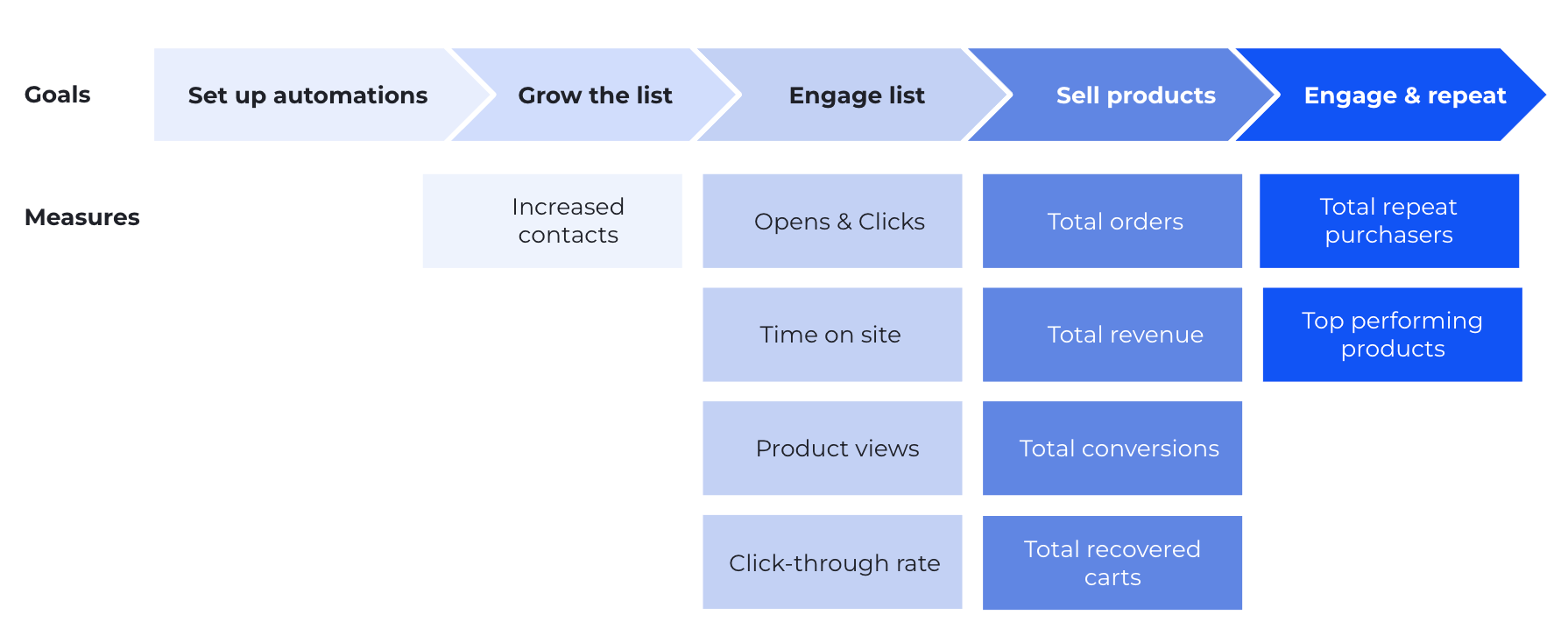 Actionable Recommendations
Clearly communicate what activities are driving revenue
Users need clarity on which marketing activities are driving the most revenue for the business. They are busy, and need to rinse and repeat strategically.
💡 Opportunity: Display ROI clearly by various ActiveCampaign features.
Give seasoned marketers performance stats
Marketers with a full email list are mostly curious about opens/clicks and which emails eventually lead to purchase.
💡 Opportunity: Display campaign metrics that lead to purchase.
Retain top-level metrics, but relate them back to specific campaigns
Key metrics such as total orders and order value are easily found in the store platform. Customers were looking for how much revenue AC emails helped them gain.
💡 Opportunity: Display ActiveCampaign Automation and Campaign Revenue out of total revenue.
Show all users how their customer journey is performing
Each customer has a common goal to progress users through a purchase funnel.
💡 Opportunity: Match customers' mental model by helping them visualize progress their marketing efforts make in their customer funnel.
2. Co-design workshop
I led an ideation session with our entire project team to discuss our findings and identify a common vision for what the dashboard reporting experience should be.

The output: An experience framework
What came out of our design session was an understanding of what experience goals we hope to provide our customers.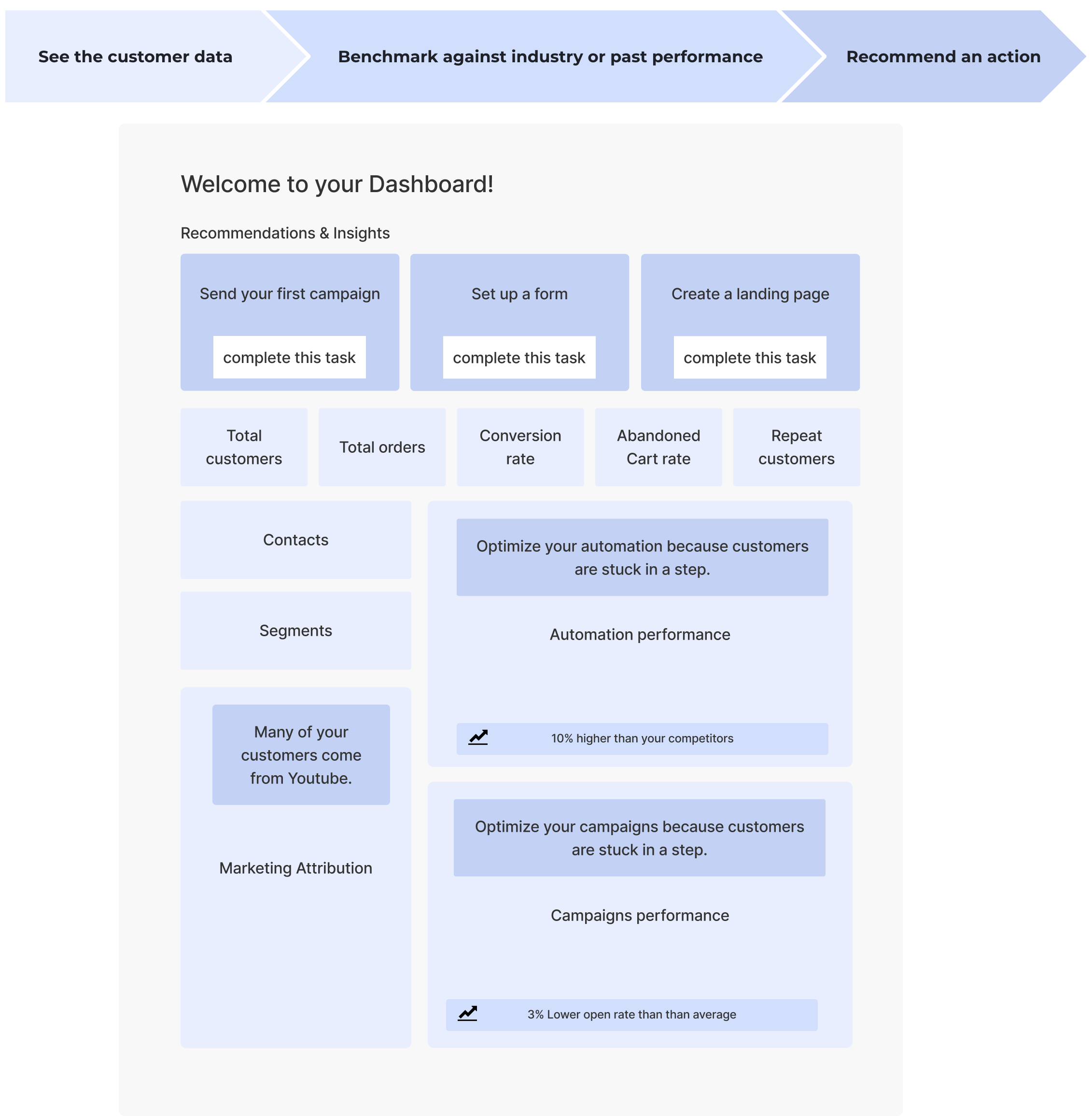 3. Design and evaluate
My next step was to bring the design to higher fidelity and consider what actual metrics we would show to customers. I put together some initial designs based on our research findings of what metrics customers wanted to see.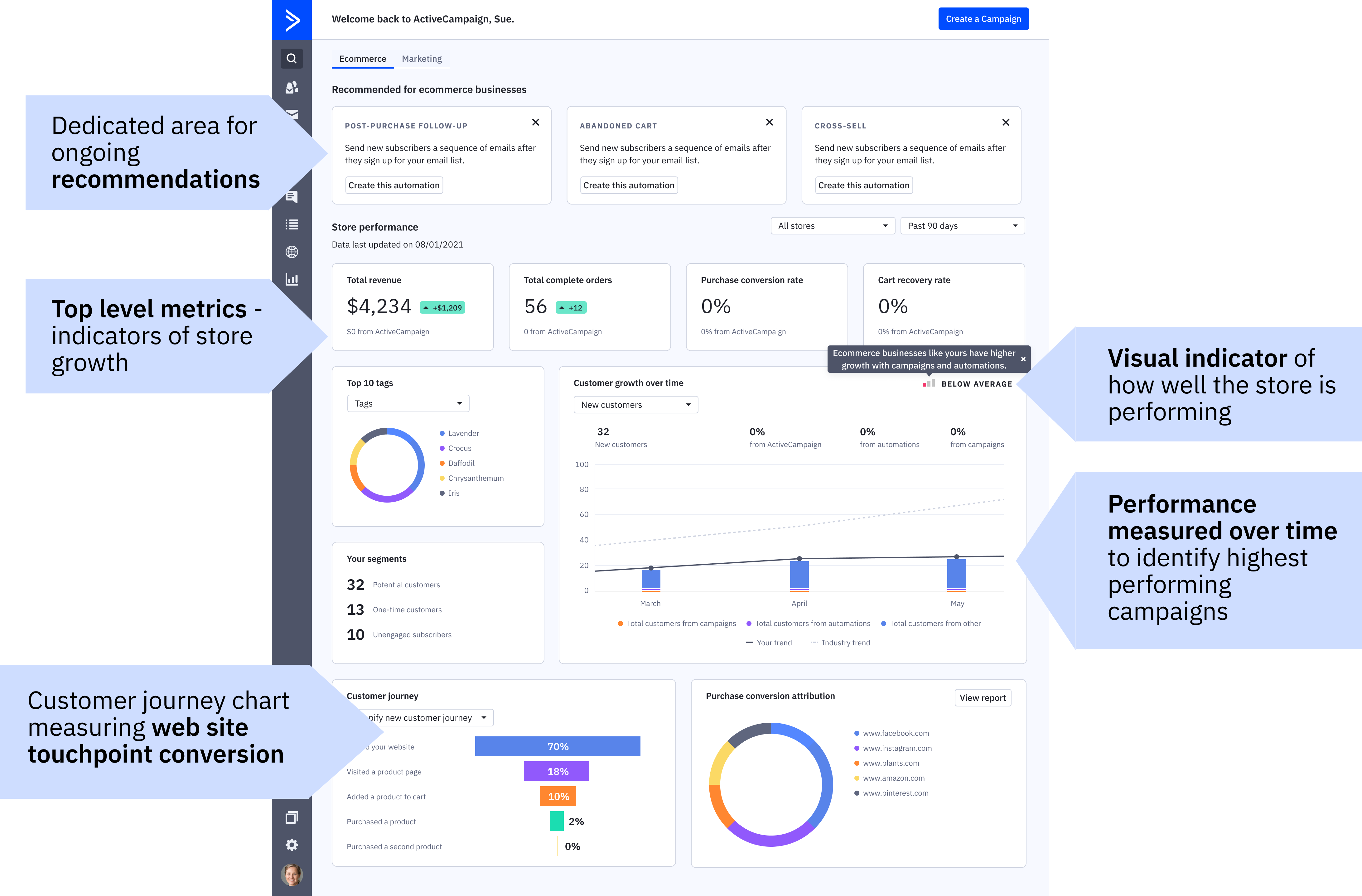 Key findings
👎 Metrics are helpful, but are still missing connection to individual campaigns and automations
👎 Lack of clarity if these metrics would expand to other channels such as SMS or web pages.
♥️ Customer journey chart is extremely helpful in understanding performance, so expanding on this concept is important
4. Iterate based on feedback
After initial feedback, I rapidly tested our designs again against the current agreed upon criteria, directly correlated from our key insights:
Is it clear how engagement and revenue are impacted by campaigns and automations?

Is it clear how your customer journey is performing and where you can improve it?

Is it clear how your ecommerce metrics are performing and where you can improve them?

The Solution
Our solution had to be scoped down for MVP. Previously, I had been designing in a custom data visualization framework. However, we decided with our timeline to implement the dashboard using Looker reporting embed tools. I worked to translate the final details to a Looker compatible UI.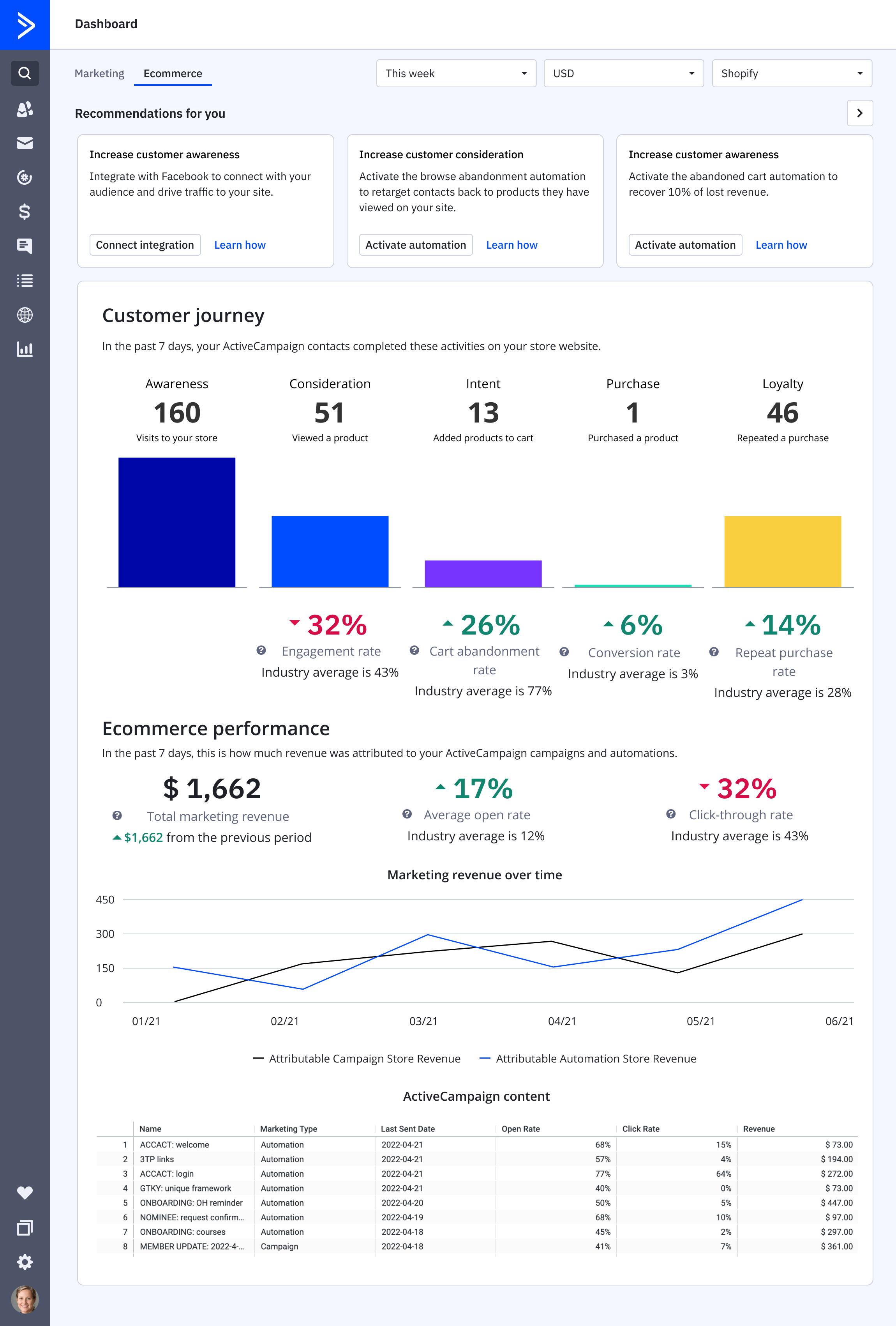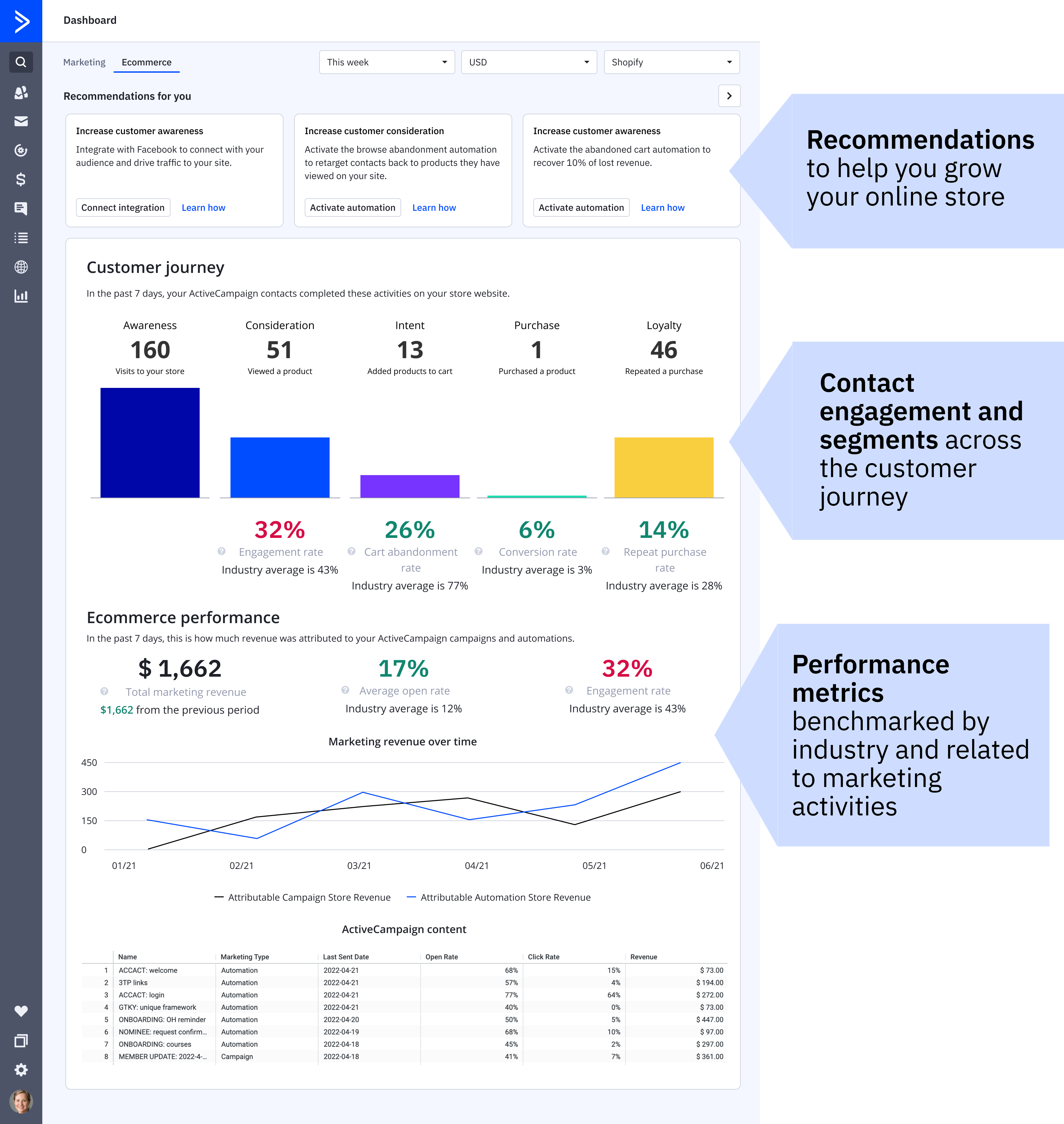 6
New recommendation actions available
+8%
Page views increased year-over-year
+5%
More users adopting eCommerce segmentation year-over year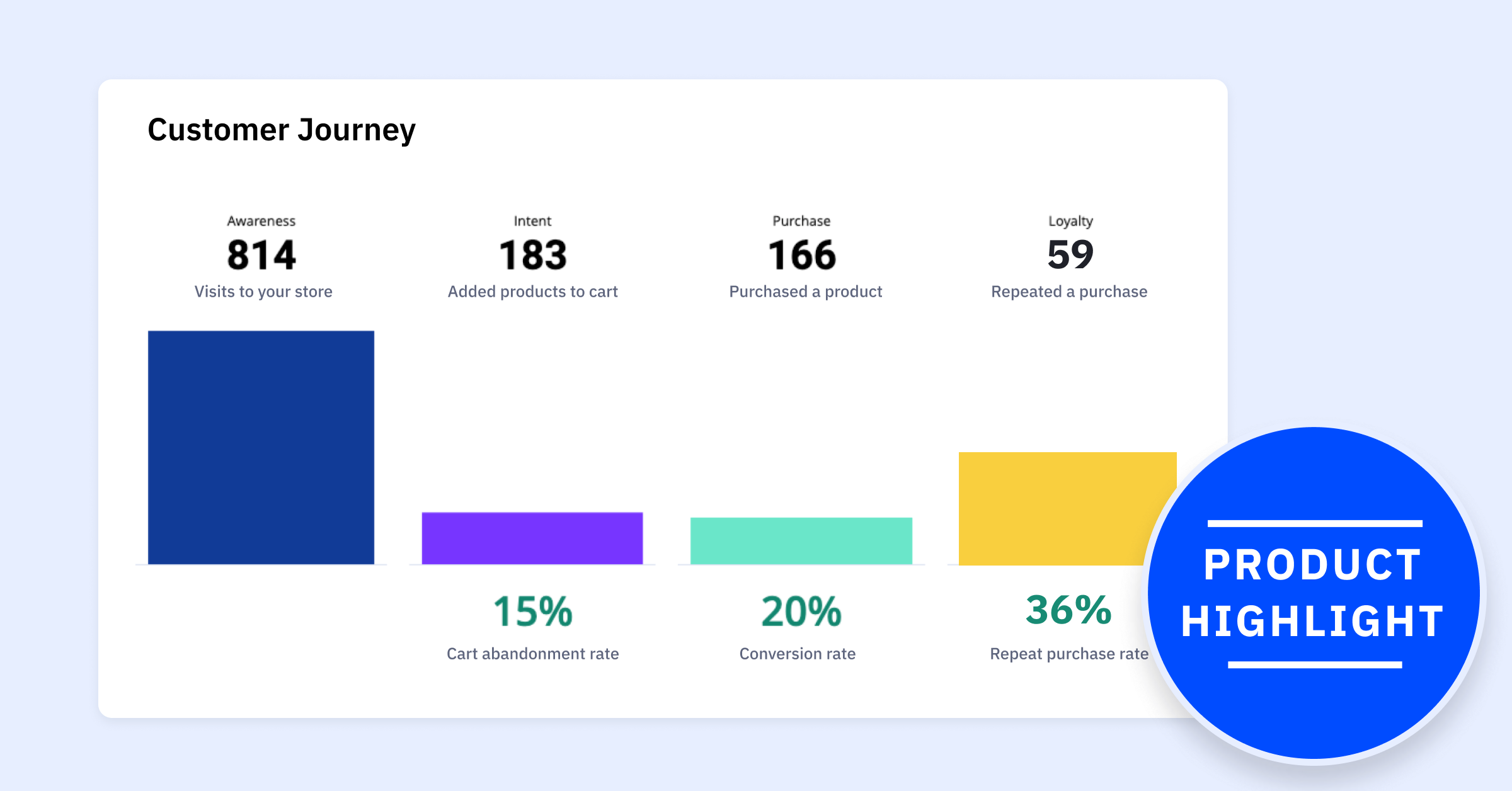 "Grow Your Online Store With Metrics, Insights, and Tips From the Ecommerce Dashboard."
ActiveCampaign Blog December 2021
Lessons learned
It's important to bring all knowledge experts in the room about different aspects of our implementation. Some of our earliest conversations didn't include the engineer from the reporting team, who could have shed insight into feasibility of design. We had to catch up with him later and scale back.

Pin down most important problems to solve early on. I dove into visual design, which proved helpful to get stakeholder buy-in. However, we could have landed at an MVP earlier if we had used low-fidelity and then chose which visualization tool we were going to adopt for implementation.

Consider the rest of the application's reporting experience. While our team was scoped to only work on this dashboard, our learnings about eCommerce reporting needs could benefit users in context to their actual marketing campaigns in other product sections, too.